My studio has been a constantly revolving space over the last couple of years, but I've found that it had stagnated lately. In an effort to push it to the next level, I thought it was about time to push down on the gas pedal and bring things up-to-date just a bit.
Organization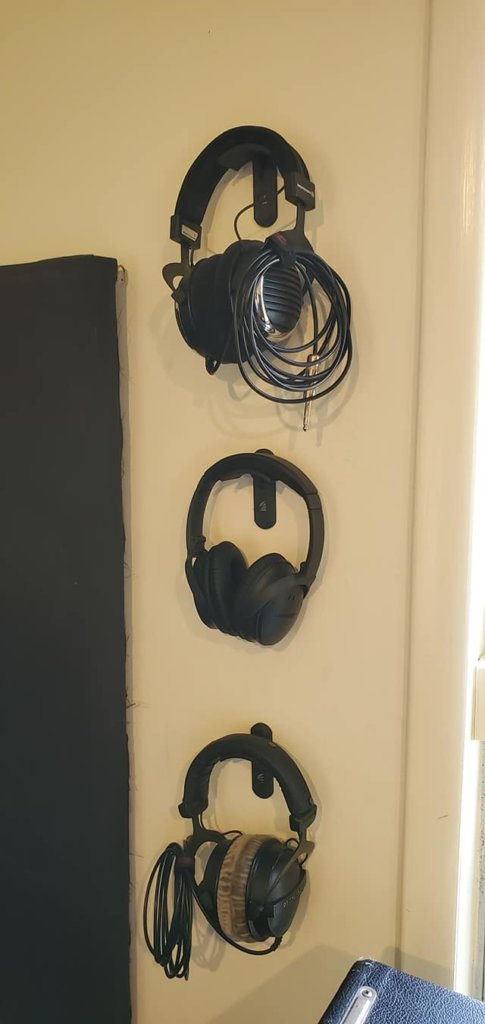 Headphone Wall Mounts
After fixing my precious Beyerdynamic DT-990s after some unfortunate damage to one of the drivers, I figured it be quick and easy to mount them up on the wall using some fancy 3D-printed mounts with the Hummingsound logo on them. Oh and in case you didn't know, I got a 3d printer early this year, probably one of my favorite investments.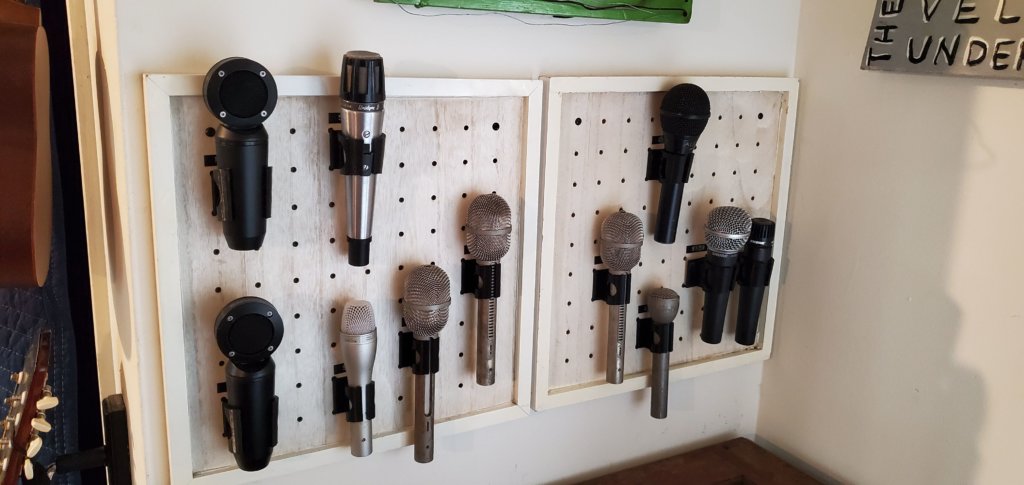 Microphone Pegboard
I had been storing all my microphones haphazardly in a bin on a top drawer. To make it easier to quickly grab a mic for during a session and better keep track of them all, I grabbed this picture frame pegboard from the garage and designed some 3d-printed mounts (yes, again with the 3d printer!) specifically sized for each type of mic.
Technology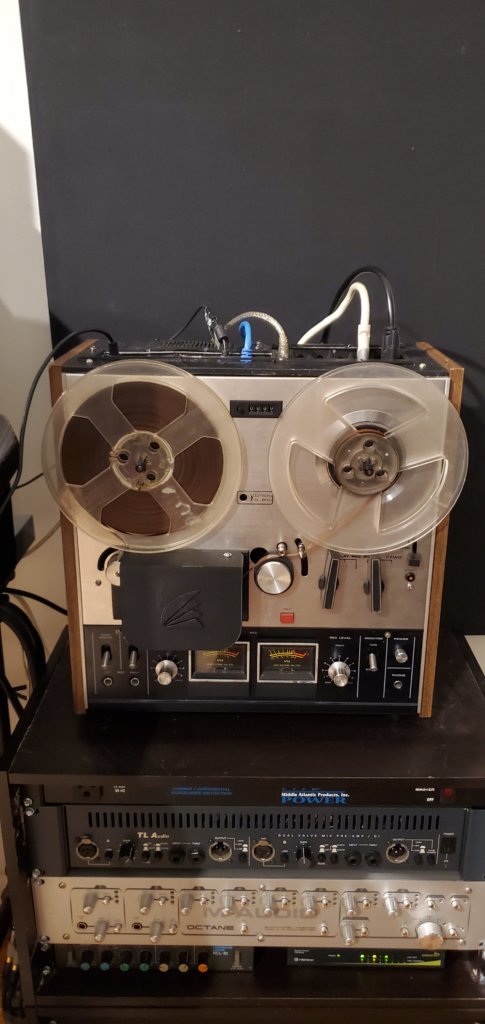 Computer Upgrade(-ish)
I have been working with this big bulky hand-me-down Intel i7 desktop for about two years now. There wasn't wrong with it performance-wise, but it always got so frickin' dusty and was so bulky that I'd find it infringing on my foot-space often. Though I'd love to have a nice rackmounted PC someday, I figured transforming an old reel-to-reel into a compact PC was the next best thing.
I could go on and on about the specifications and how I did it, but I'll save that kind of information for my techy blog someday. But doesn't it look great! And it's fairly quiet too with a set of Noctua case fans. The only issue I have is that the graphics card runs a bit on the hot side, but I don't do much gaming so I'm not worried about it thermal-throttling.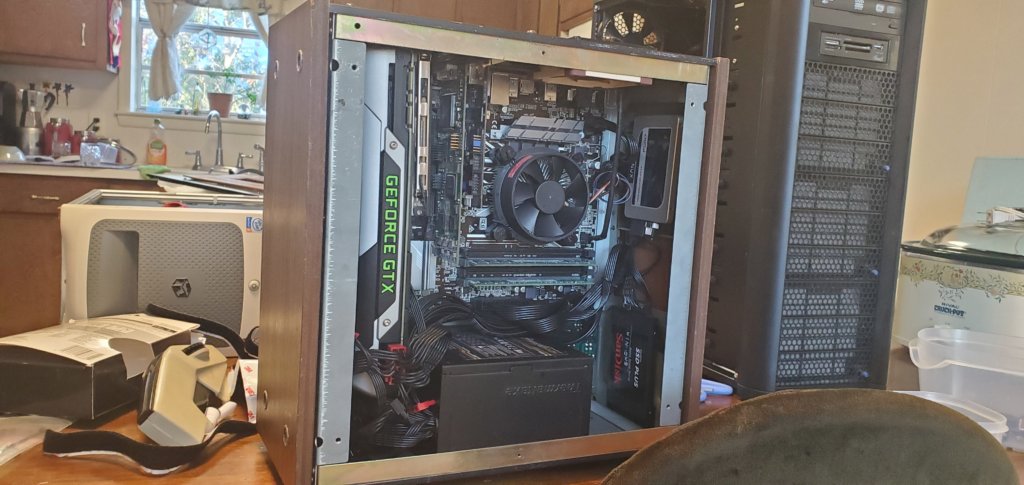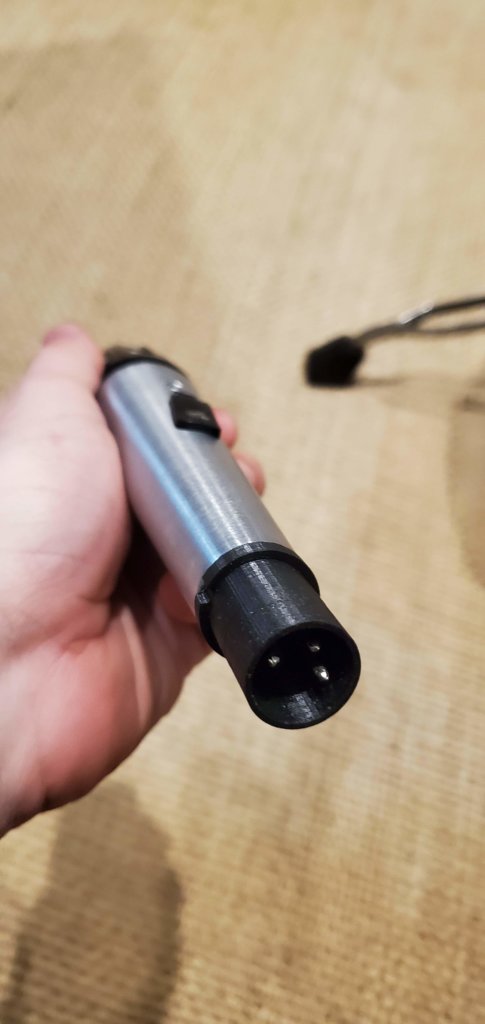 Shure 515SB XLR Upgrade
I found this mic at a thrift store one weekend. Its actually served a good purpose as a batter-side snare mic, but it's one downfall was the fact that it was hardwired to an unbalanced 1/4″ instrument cable. Well, not anymore! I figured out this really cool 3d print to make it easy to add an XLR connector to the butt of it. I recommend this to anyone who happens to have this in their collection.
New Addition to the Mic Closet!
After getting the Black Friday bug and nearly laying it all down on one right then and there, I decided to hold back, save a bit of coin, trade some old, unused gear in, and then finally place the order in at my local shop for an Electro-Voice RE20. It may not surprise anyone that I'm a bit Electro-Voice fan, but I've probably been a bigger fan of the RE20 for longer.
Ever since seeing Thom Yorke use one in their In Rainbows From the Basement session and hearing how clean and rich his voice sounded naturally through that mic (I doubt they used much EQ & compression), I was transfixed. It's probably most famous for its use as a broadcast microphone sitting toe-to-toe with the Shure SM7B, but it can also really shine when mic'd on a bass cab or in front of a kick drum.
I've got one or two projects that I was initially going to use my tried-and-true NT1A on, but I might just experiment with the RE20 instead…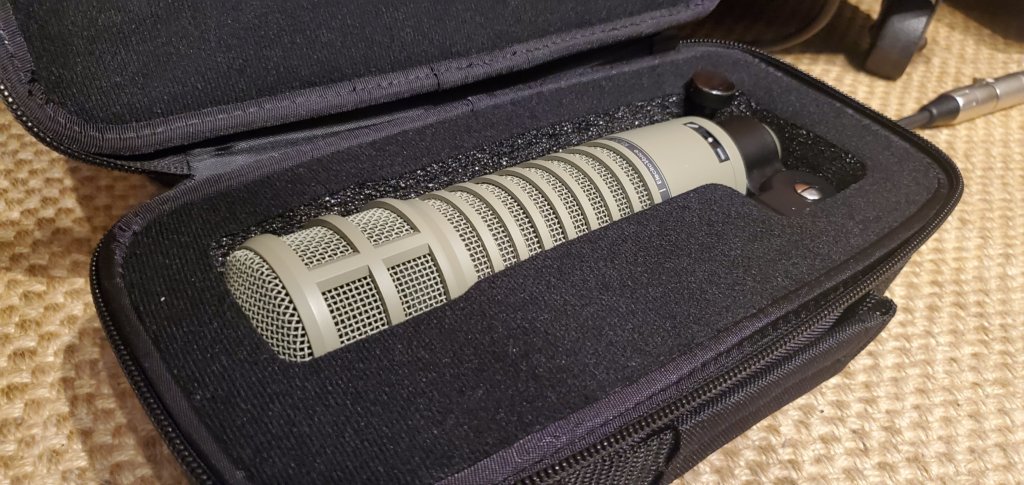 Furniture
Last but not least, I'd been yearning for a new studio desk which would make all of my gear (relatively) more compact and get rid of this old, crappy Ikea desk that was starting to bow in the middle. Plus, I feel that most stuff you make yourself and use everyday just makes you happier overall to use it.
I decided to keep my setup mostly as is (though I've been keeping my eye on a new mixer… eventually). So after looking around, I figured that a 3x4u mounted above the mixer would give me most everything I'd need and take one of my rackmount units off the floor for a bit more walking room. Plus, it'll be able to support my studio monitors and computer display.
I went for a dark wood stain (espresso to be exact) with iron-piping to connect it all together for that good hipster-industrial shabby-chic.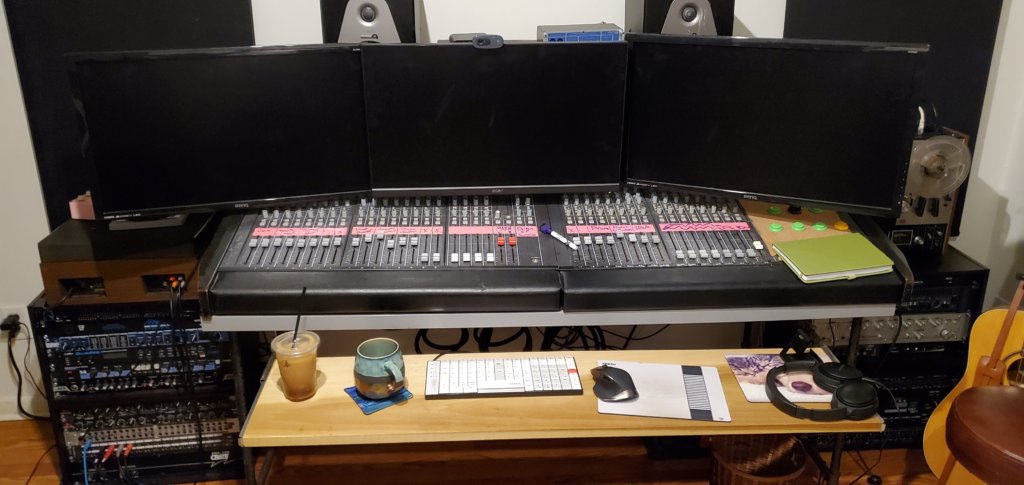 ---
Sorry for all the ranting and raving, but I just had to show off some of this work! If you have any questions and maybe want to try doing one of these projects yourself, shoot me a message and I'll see if I can help.
Before I forget, happy New Year, everyone!